JERNIGAN'S MEDICAL HAIR RESTORATION – RALEIGH, NORTH CAROLINA
HAIR TRANSPLANT SURGERY FOR MEN & WOMEN
PERMANENT, NATURAL HAIR RESTORATION
HAIR TRANSPLANT SURGERY
FOR MEN & WOMEN
What You Should Know About Surgical Hair Restoration
Hair transplantation is an operation that takes hair from the back of the head and moves it to the area of hair loss. The fringe (back and sides) of hair on a balding scalp is known as donor dominant hair which is the hair that will continue to grow throughout the life of most men. The transplantation of this hair to a bald area does not change its ability to grow.
Candidates for hair transplant surgery are those individuals with hair loss that have sufficient donor hair from the fringe of the scalp to transplant to the balding area. In the past, many bald patients were not suitable candidates for hair transplant surgery but modern techniques have advanced the art of hair transplant surgery so that many more men and women are candidates.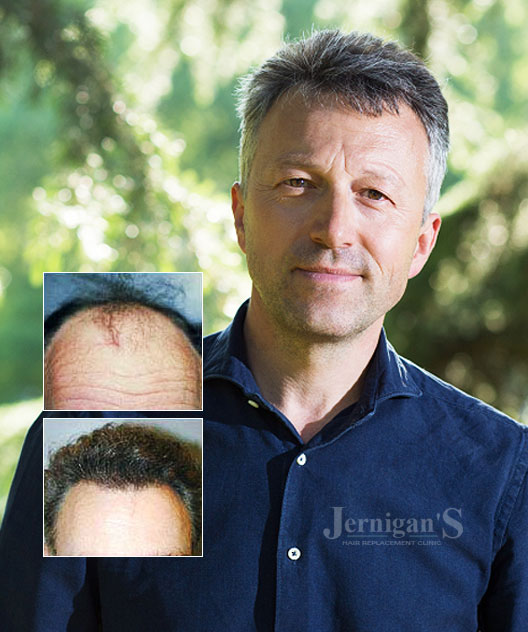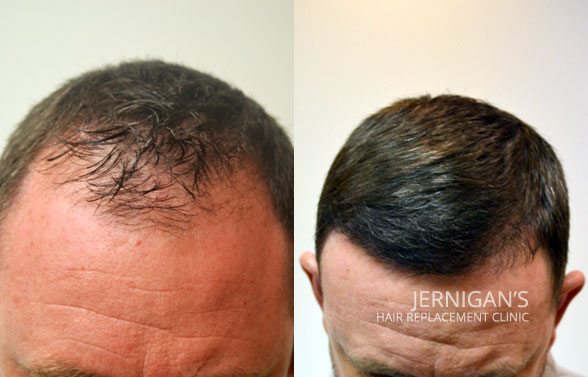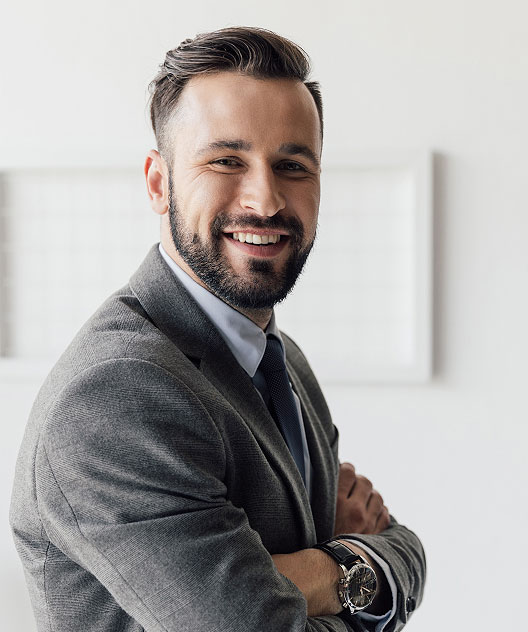 OUR HAIR TRANSPLANT PHILOSOPHY
Our basic philosophic approach begins with a time-honored idea: "Do one thing and do it well." At Jernigan's Hair Replacement Clinic, we don't do face lifts, tummy tucks, breast implants, or any other such procedures. We concentrate our energies on performing the best hair transplantation possible.
We endeavor to produce a natural appearing hairline with single, one follicle (called a follicular unit) graft. We move four to six times as much hair as the standard approach, using follicular unit grafts throughout producing a completely natural result.
More hair per session means a smaller number of sessions required to produce the desired result.
THE DOCTOR-PATIENT RELATIONSHIP
Surgical hair restoration and hair transplantation, like all other plastic surgeries, is an art. It requires an expert surgical team, with over 38 years of surgical experience and a trained hand to create the most natural appearing results that are undetectable to even the most critical eye.
Our highly respected hair restoration team is renowned for their skill and artistry, placing the strongest possible emphasis on establishing a solid doctor-patient relationship right from the start, which will help guide the patient through the entire hair restoration process.
Each patient is treated as a unique individual. At Jernigan's Hair Replacement Clinic, we realize that every patient has unique needs and desires.
As a result, we are renowned for our keen aesthetic sense in performing hair transplants and exceptional surgical skills.
THE TRUTH ABOUT HAIR TRANSPLANTS
WHAT IS HAIR TRANSPLANTATION? While there are many surgical procedures for the treatment of hair loss of which hair transplants are one of the most widely accepted.
DO HAIR TRANSPLANTS REALLY WORK? Yes. The transplanted hair is removed from one area of the body (donor site) which has been genetically pre-programmed to produce healthy hair for a lifetime. Then using magnification, follicular unit grafts containing one, two, three or four hairs are meticulously transferred called "planting" into the bald or thinning areas the recipient site.
THE HAIR TRANSPLANT PROCEDURE: Hair transplantation is considered a "minor" outpatient surgery that takes from 3–8 hours. Patients are kept pain-free and comfortable with a gentle oral or IV sedation medication. Within six to eight months, hair transplant patients will begin to realize significant growth.
SKILL. ARTISTRY. TECHNIQUE. TEAMWORK.
At our Raleigh, NC Hair Replacement Clinic, our outstanding professional staff is thoroughly trained in the very latest hair transplant techniques.
Regarding what types of grafts are to be used, we are not "locked in" or programmed to do hair transplantation with only one narrowly defined method, but rather offer to each patient both the "all follicular-unit" graft method and the "combination grafting" (70-80% FU's and 20-30% small multi-FU grafts) approach.
The decision to take action against hair loss can be, for some individuals, a difficult one. By choosing the most qualified hair restoration expert, the decision becomes an easier one to make.
However, no surgeon can achieve this goal alone. Hair transplantation surgery, perhaps more than any other surgical procedure, depends on the assistance of skilled medical personnel in a 'team' framework.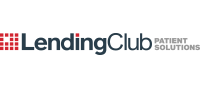 Our practice is pleased to present flexible payment plans through Lending Club Patient Solutions. Enjoy a selection of flexible plans with low fixed rates and monthly payments, no upfront payment, and no prepayment penalty. It's easy to calculate your potential monthly payments. Simply complete a short application which displays fixed rates and monthly payments available for Extended Plans, all without impacting your credit score. For more information, simply ask a team member or click the button below to get started.
GET STARTED WITH A
FREE CONSULTATION
Whether you are experiencing thinning hair and want to stop your hair loss, or want more hair, we provide the most advanced hair restoration & hair transplant procedures in Raleigh for men and women of all ages and hair types.
DISCREET PRIVATE CONSULTATION & SERVICES
All of our services are provided with your complete privacy in mind. We provide a discreet, confidential, professional atmosphere which all our patients appreciate, where we will work one-on-one with you to help you find your perfect hair loss solution.
GET ANSWERS TODAY
Restore your hair. Restore your life. Schedule a free, private consultation today.