PERMANENT, NATURAL HAIR RESTORATION FOR MEN & WOMEN – RALEIGH, NORTH CAROLINA
MEET DR. SUJEEV BAINS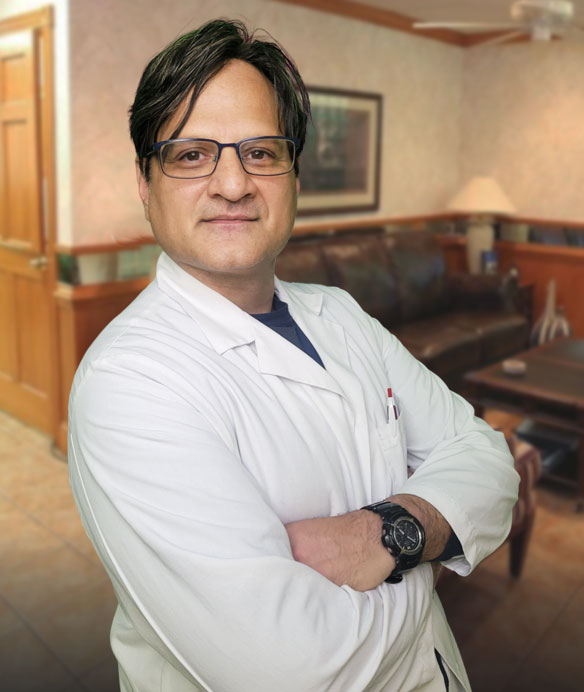 Dr. Sujeev Bains
Medical Director, Jernigan's Hair Replacement Clinic
MEET DR. SUJEEV BAINS, RALEIGH NC HAIR TRANSPLANT SURGEON
Dr. Sujeev Bains is board certified in Internal medicine and completed his residency at Saint Louis University along with a clinical research fellowship from the Medical University of South Carolina.  He also attended continuing medical education in hair transplantation at Hair Transplant 360 at the Saint Louis University College of Medicine along with mentorship under a board-certified hair transplant surgeon.
Prior to joining Jernigan's, Dr. Bains spent 10 years with the Raleigh Veteran's Administration Clinic and is passionate about veterans' health care.
He is an associate member of the ISHRS. He is passionate about both medical and surgical treatments for hair restoration.
Hair Restoration to Last a Lifetime
For each patient who comes to us for hair transplantation, Dr. Bains' goal is to try and achieve as much naturalness and density as possible. These two goals are best achieved when the plan is individualized for each patient, dependent upon the individual patient's circumstances and degree of hair loss.
There are a host of factors that must be taken into account with each patient before formulating the best hair restoration plan. Some of the more important factors are the patient's age, the hair-to-skin color contrast, the caliber of the hair, the patient's goals for later styling, and perhaps most important, the ratio of available donor hair in relation to the recipient area in need of coverage.
Importance of the Doctor-Patient Relationship
The relationship between physician and patient in our practice is one in which there is a maximum opportunity for communication and knowing what the other thinks and desires. There is no pressure at all. Making a sale or scheduling a surgery is not our goal or priority. Establishing an open, trusting relationship for life between doctor and patient is what is most important. Follow-up calls or visits are always welcome. Direct access to Dr. Bains, whether by telephone, e-mail, or in person, is always possible.
Dr. Bains has been actively involved with Jernigan's for several years and is excited to be named as Jernigan's medical director. His personal interests include traveling, reading, and spending time with his wife, Dr. Sonia Bains, and his twin boys.
GET STARTED WITH A
FREE CONSULTATION
Whether you are experiencing thinning hair and want to stop your hair loss, or want more hair, we provide the most advanced hair restoration & hair transplant procedures in Raleigh for men and women of all ages and hair types.
DISCREET PRIVATE CONSULTATION & SERVICES
All of our services are provided with your complete privacy in mind. We provide a discreet, confidential, professional atmosphere which all our patients appreciate, where we will work one-on-one with you to help you find your perfect hair loss solution.
GET ANSWERS TODAY
Restore your hair. Restore your life. Schedule a free, private consultation today.