THINNING HAIR TREATMENTS FOR MEN & WOMEN
HOME USE LASER HAIR THERAPY TREATMENT OPTIONS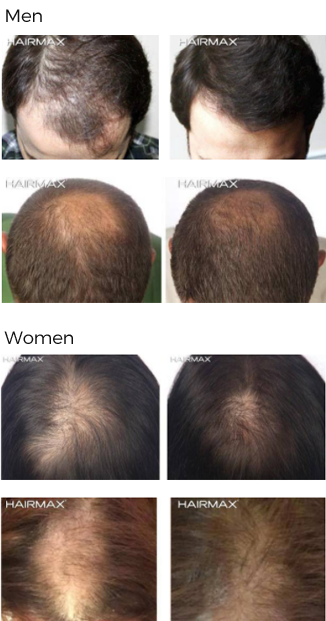 LASER HAIR THERAPY TREATMENT FOR HAIR LOSS – RALEIGH, NC
HOME LASER HAIR THERAPY TREATMENT FOR HAIR LOSS
At Jernigans Hair Replacement Clinic we offer the most scientifically advanced, proven laser light hair re-growth programs for the treatment and prevention of hair loss in men and women.
DOCTOR RECOMMENDED Low Level Laser Light Therapy (LLHT):
Stops the progression of hair loss in 97% of patients
Stimulates hair follicles, promoting new hair growth
Promotes thicker, stronger, and healthier looking hair
Is ideal for post-operative hair transplant patients, promoting faster healing and improved hair thickness and texture.
Laser Hair Loss Treatment in the Comfort of Your Own Home
For those who find it difficult to travel for our in-house Laser Therapy Program, we offer wearable, clinical-strength, laser hair therapy devices for sale, for use in the privacy and convenience of your own home. All laser medical devises can be used by women and men with very similar end results.
Restore Your Hair. Restore Your Life.
At Jernigans Hair Replacement Clinic, we offer four FDA Cleared portable home use laser devices for the treatment of Androgenetic Alopecia in men and women.

From left to right, we offer:
The LaserBand82 with it's patented hair parting teeth & uses 82 red laser and LED light diodes (corresponds to 246 lasers for full coverage-82 x 3 areas) to stimulate and energize cellular activity causing an uptake in the natural function of the hair follicle.
The LaserBand41 has 41 medical grade lasers (246 total laser coverage-41 x 6 areas).
The RegrowMD Laser has 272 diodes with 2.8 watts.
The PowerFlex Cap also has 272 diodes but with 3.8 watts.
Each of these portable home use laser medical devices offer a two-year manufactures warranty & rechargeable battery pack.
The LaserBand82 recommends 90 second sessions, 3 times/wk., the LaserBand41 recommends a 3 minutes, 3 days /wk. The RegrowMD recommends 30 minutes, 3 times/week, the PowerFlex Cap has 15 or 30 minute options, 2-3 times/week. After the initial 4 – 6 month treatment period, you may continue session's once/week to maintain your hair quality.
All home use laser devices, the LaserBand82, ($799) LaserBand41 ($540), RegrowMD, ($899) the PowerFlex Cap, ($1899) are available for pickup or shipped directly to your home. While we try to keep devices in stock, please call ahead for availability.
Don't compromise when it comes to your appearance and lifestyle, call Jernigan's today at 919-787-2401 or email us at jerniganshair@aol.com to schedule a free consultation.
Which Hair Loss Solution is Right for You?
WE INVITE YOU to schedule a free, private, no-obligation consultation with one of our trained professional hair loss specialists – either by means of a virtual consultation from the privacy and comfort of your own home, or by visiting our state-of-the-art Raleigh hair restoration clinic – to discuss your hair loss concerns, explore your options, and find the perfect hair loss solution to meet your needs.
Whether you are just starting to experience baldness or are in the most advanced stages of hair loss, we can help with our full spectrum of professional treatment and hair restoration options.
GET STARTED WITH A
FREE CONSULTATION
Whether you are experiencing thinning hair and want to stop your hair loss, or want more hair, we provide the most advanced hair restoration & hair transplant procedures in Raleigh for men and women of all ages and hair types.
DISCREET PRIVATE CONSULTATION & SERVICES
All of our services are provided with your complete privacy in mind. We provide a discreet, confidential, professional atmosphere which all our patients appreciate, where we will work one-on-one with you to help you find your perfect hair loss solution.
GET ANSWERS TODAY
Restore your hair. Restore your life. Schedule a free, private consultation today.