JERNIGAN'S MEDICAL HAIR RESTORATION – RALEIGH, NORTH CAROLINA
NEOGRAFT ADVANCED FUE HAIR TRANSPLANT
PERMANENT, NATURAL HAIR RESTORATION
NEOGRAFT FUE HAIR TRANSPLANTS
FOR MEN & WOMEN
NeoGraft FUE Hair Transplantation: Permanent, Natural Hair Restoration
In recent years there has been a growing amount of talk in the hair transplant industry about a procedure called Follicular Unit Extraction (FUE). This process is the removal of the donor hair that is to be used in the hair transplant one graft at a time.
The popularity of this procedure has grown for several reasons, but the main reason is the fear that some patients have with the traditional strip method of hair grafts harvest donor hair. While the strip method is still the gold standard, Neograft FUE is quickly growing because there is no strip of hair grafts removed and that means no scarring, and less discomfort.
NeoGraft advanced FUE Hair Transplantation is a minimally invasive, outpatient procedure transplants your own hair without stitches or noticeable scarring. With a fast recovery period, most people are able to return to work and other activities in just a few days. The result is fuller, natural looking hair that will last a lifetime.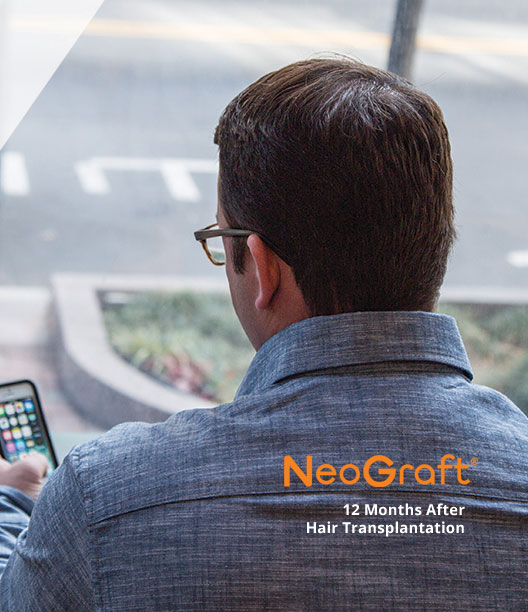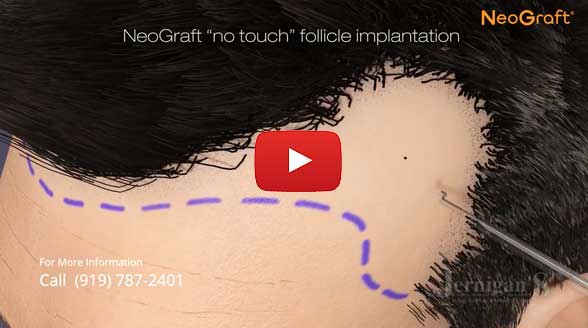 THE NEOGRAFT FUE HAIR TRANSPLANT DIFFERENCE
With Neograft surgical hair restoration, the time required for the surgery is less than half the time of the standard transplant procedure. Over 40 percent of men will have noticeable hair loss by the age of 35, while 65 percent of women will have noticeable hair loss by the time they are 60. Hair loss solutions are not a thing of the past. The NeoGraft Hair Transplantation System is a safe and efficacious procedure that can treat male pattern baldness and female baldness in almost half the time of any other hair restoration procedure or technique currently available.
From a surgical standpoint, an FUE hair transplant is a very safe, minimally invasive, relatively minor procedure. With the FUE method there is no need to excise a piece of the scalp because the follicles are removed directly from the donor area.The benefits of the FUE method to the patient are that there is minimal discomfort, no scalpel incision, no sutures, no linear scar, little to no risk of complications, quick recovery time, fewer activity limitations and a more natural looking result than traditional strip methods (patients can ware their hair short if they choose too without an unsightly scar). The newest most advanced method of hair transplantation is called the NeoGraft Automated FUE and Implantation System. Now, with the NeoGraft Hair Transplant medical device, the difficulties associated with a manual FUE procedure have been eliminated.
An FUE hair transplant with NeoGraft can be done in the same amount of time as a traditional "strip" hair transplant, reducing the cost of a long manual FUE transplant. In addition, to reducing the time required for the hair transplant, NeoGraft uses pneumatic pressure to extract the follicles and precisely implant them as well…"No Touch." This eliminates the need for touching the follicles with forceps during harvesting leaving them in a more robust state.
Finally, with the NeoGraft technology the patient receives the benefits of the FUE procedure and the physician benefits from the advancements of the technique made easier and with more efficient repeatable results.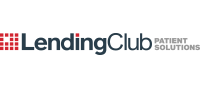 Our practice is pleased to present flexible payment plans through Lending Club Patient Solutions. Enjoy a selection of flexible plans with low fixed rates and monthly payments, no upfront payment, and no prepayment penalty. It's easy to calculate your potential monthly payments. Simply complete a short application which displays fixed rates and monthly payments available for Extended Plans, all without impacting your credit score. For more information, simply ask a team member or click the button below.
GET STARTED WITH A
FREE CONSULTATION
Whether you are experiencing thinning hair and want to stop your hair loss, or want more hair, we provide the most advanced hair restoration & hair transplant procedures in Raleigh for men and women of all ages and hair types.
DISCREET PRIVATE CONSULTATION & SERVICES
All of our services are provided with your complete privacy in mind. We provide a discreet, confidential, professional atmosphere which all our patients appreciate, where we will work one-on-one with you to help you find your perfect hair loss solution.
GET ANSWERS TODAY
Restore your hair. Restore your life. Schedule a free, private consultation today.