JERNIGAN'S HAIR REPLACEMENT CLINIC – RALEIGH, NC
MEET DR. SURJEEV BAINS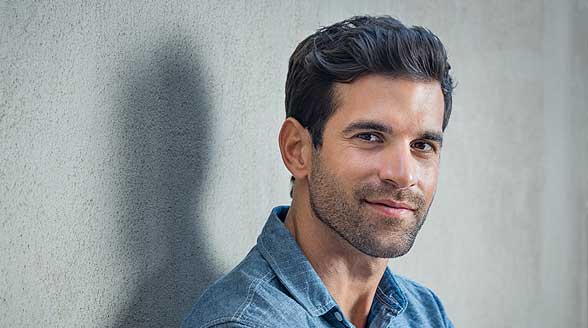 Meet Dr. Surjeev Bains – Hair Transplant Specialist
Dr. Surjeev Bains is board certified in Internal medicine and completed his residency at Saint Louis University along with a clinical research fellowship from the Medical University of South Carolina.
He also attended continuing medical education in hair transplantation at Hair Transplant 360 at the Saint Louis University College of Medicine along with mentorship under a board-certified hair transplant surgeon. He is an associate member of the ISHRS
He is passionate about both medical and surgical treatments for hair restoration. Dr. Bains has been involved with Jernigan's for several years and is excited to now be working alongside them in a professional manner. His personal interests include traveling, reading, and spending time with his wife, Dr. Sonia Bains, and his twin boys.
Doctor Surjeev Bains or one of his trained staff members conducts each consultation, and performs each hair transplant procedure in an unhurried manner, one at a time, with no other distractions. The results have been extremely high patient satisfaction and a reputation for excellence among his peers.
We try very hard to match the realistic expectations of our patients with what we can actually achieve. Before any surgery is ever scheduled, Dr.Bains always makes certain that a strong sense of mutual trust exists between himself and the patient.
Everything we do – the time and care with which we approach each procedure at our office – is geared toward creating a natural result that is both priceless and timeless.
Dr. Bains stresses that the goal of hair transplantation has changed over the years. When it was first developed, the goal was coverage at any cost. This created the pluggy look that has such an unnatural appearance. At the time, patients were satisfied just to have hair covering their balding areas, regardless of the total look.
Today, Surgical Hair Restoration techniques and technology have been refined to allow the physician to create naturalness in restored hair. Coverage of hair-loss areas is still a basic principle of hair transplantation, but naturalness is the new guiding philosophy. What naturalness means to Dr. Bains is the development of a look that provides the aesthetic balance that expresses a client's individuality. Even though this look is not a hair-for-hair replacement of lost hair, it restores the natural pattern of hair growth, frames the face, and makes hair once again a part of a client's overall appearance rather than a distraction that makes hair loss the most noticeable feature.
Dr. Bains plans hair restoration around the pattern of natural hair growth and natural hair-loss patterns. There is no "one size fits all" approach to aesthetically successful hair restoration–every person is an individual whose hair restoration must be individualized to that person's needs, wishes, age, and ethnicity.
Surgical Hair Transplants by Dr. Bains
Over the years our practice has gained a wide reputation and attracted patients from throughout Raleigh and wider North Carolina and the Southeastern region. Our approach to hair transplant for each patient is very individualized and personal. We feel that establishing mutual trust and confidence between doctor and patient is essential in order to achieve a successful hair transplant result.
If you are interested in learning more about hair transplants or other hair loss treatment options available in Raleigh-Durham Chapel Hill Carolina at Jernigan's Hair Restoration Clinic, we invite you to contact us today for an appointment so we can help you find a personal hair restoration program that is tailored to your specific needs.
GET STARTED WITH A
FREE CONSULTATION
Whether you are experiencing thinning hair and want to stop your hair loss, or want more hair, we provide the most advanced hair restoration & hair transplant procedures in Raleigh for men and women of all ages and hair types.
DISCREET PRIVATE CONSULTATION & SERVICES
All of our services are provided with your complete privacy in mind. We provide a discreet, confidential, professional atmosphere which all our patients appreciate, where we will work one-on-one with you to help you find your perfect hair loss solution.
GET ANSWERS TODAY
Restore your hair. Restore your life. Schedule a free, private consultation today.